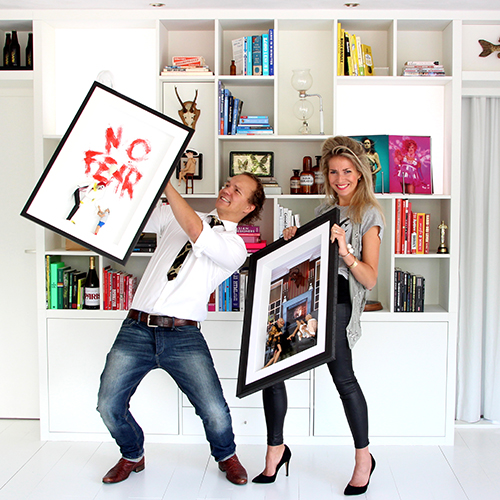 Ruben Verheggen & Eva Post
Lives and works in Utrecht, The Netherlands
About Artist
The duo artist Ruben Verheggen and Eva Post are based in Utrecht, The Netherlands and are also a couple in real life. When crafting the artworks, Ruben is responsible for the creative concepts, while Eva carefully brings them to life with needles and an extreme eye for detail. Their distinctive characters, made from coloured clay, are fully handmade and that makes every artwork a unique piece.
The couple mostly draws their inspiration from daily life events, using a little bit of irony and sarcasm. Their goal is to make people smile. Their motto: Don't take life too seriously.
In the Netherlands, the art of Ruben and Eva has already caught the eye of the masses. Their artworks have been exhibited in Amsterdam, Paris, Milan, Saint-Tropez and many other big cities in Europe. You can find them exclusively in Hong Kong at A.STYLE Gallery.
Selected Exhibitions
2019 "Art from Mars & Venus" Exhibition at The Art Dose, Glifada, Greek
2019 Group Exhibition at Galerie 28, Reimes, France
2018 "Supreme" Exhibition at Art Life Gallery, Saint-Raphael, France
2018 Group Exhibition at Galerie Bettina, Paris, France
2018 The Bizarre 3D Arts of Ruben Verheggen and Eva Post at Gallery Van Dun, Oisterwijk, The Netherland
Selected Art Fair
2019 Ghistelinck in Style, at Waregem, Belgium
2018 ART Breda, at Breda, The Netherlands
2018 First Art Fair, at Amsterdam, The Netherlands
2017 ART Nocturne, at Knocke, Belgium
2017 Affordable Art Fair, at Amsterdam, The Netherlands
2016 ART3F, at Paris, France