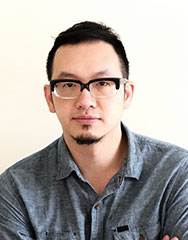 Henry Chu
Born in Hong Kong, 1976
Lives and works in Hong Kong
Born in Hong Kong in 1976, Henry Chu obtained his degree in Electronic and Electric Engineering from The University of Auckland, New Zealand.
Specialising in interactive web design, he started his own design studio Pill & Pillow in 2004. He is not only a designer, but also a software engineer and new media artist. He is currently a member of the executive committee of the Hong Kong Designers Association and of the board of directors of Videotage as well as a judge for the Favourite Website Awards.
He works with a wide range of talented individuals from different sectors from the retail and corporate sectors to education and the creative industry. His works are well received locally and overseas and have picked up over a hundred awards, including the Favourite Website Award, awards from the Hong Kong Designers Association and from the Cannes Lions International Festival of Creativity, the HK4As Kam Fan Award and the London International Gold Award, and he has also earned recognition as one of Cutout magazine's "10 Best Interactive Agencies for Ideas". His iPad Music app Squiggle was exhibited at the Museum of Modern Art in New York, while SoundYeah was selected for the Louis Vuitton Digital Discoveries website. He was also selected as one of the "Ten Outstanding Designers" and "25 Hong Kong designers you need to know" by Timeout.
Exhibitions